Germany
10 things to do in Hamburg. Actually, 11. Actually, no – 12.
There would probably be 120 million things one could do while in Hamburg. This article gives you access to 10 of them. Actually, no 11. Mmmh, no, 12.
(1) Everyone knows the harbour of this pearl set in the heart of northern Europe. It is the largest in Germany located along the Elbe and is the second in Europe after Rotterdam. "So what", you might comment. Well, did you know that you can actually dance all around the harbour? How? Well, all you have to do is to board "Frau Heidi" boat at sunset and you will immediately feel like you were in a movie. A DJ will play epic music, from jazz to soul, from Dixieland to David Bowie. You will dance away the evening, you will probably look at each other as your legs waver somehow, and you will witness the shadows of the night descending on the immense ships that come to rest for a while in this part of the world.
(2) In Hamburg, you should go to the cemetery. Yes, to the cemetery. Echt! Rent a bicycle and head to "Friedhof Ohlsdorf" (http://www.friedhof-hamburg.de/ohlsdorf/), which is located north of the city . With its 400 hectares of extension, it is not the main city cemetery but also the largest civil cemetery in Western Europe and the third largest cemetery in the world. When you move around it, it will feel like a immense garden where more than 30,000 trees are planted and where millions of people of different religions rest for eternity: Jews, Iranians, Catholics, Protestants, they all sleep here. Six feet under, we are all the same.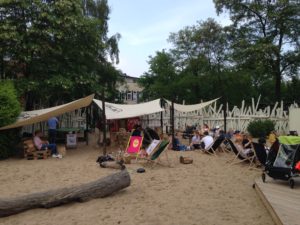 (3) In Hamburg, you may want to go to the beach. "But it's cold", you might object. It is not cold if you spend some time at the "Central Park Beach" (http://www.centralpark-hamburg.de/ ). In the middle of the Sternschanze neighbourhood, you will find deck chairs, sand, umbrellas, friends and colleagues who chat, fresh beers, fruit juices and daily prepared dishes with locally-sourced ingredients. Their motto is: "Jeder darf rein. Außer Stress ", or "Everybody in, except stress". Who needs stress? Let's leave it outside.
(4) When I travel, I believe it's wise to avoid politicians and head to markets. In Hamburg, there are many markets, but for me the most fascinating is the Isemarkt http://www.hamburg-einkaufszentrum.de/de/maerkte/isemarkt . You will find it between the two U-Bahn stops "Eppendorfer Baum" and "Hoheluft". In this orderly, clean and fragrant market, which is open only in the morning, you will see stalls filled with spices and seasonal vegetables, white asparagus (in the summertime) and florists that are so prepared to look like a living encyclopaedia, such as Mirja Francken. Buy candied ginger, walnuts, or handicraft jewellery, or uncommon books. Or take a coffee and sit down: if you are lucky, you could also see the students of the faculty of architecture who come here to draw the iron structure under which the market lives.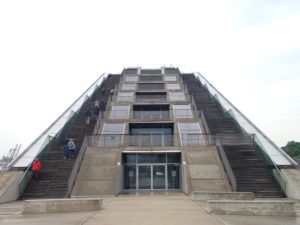 (5) Who would not want to see a 25-meter high parallelogram? In Hamburg, you can do it. Ask for "Dockland Hamburg". It's a six-story office building and probably will remind you of a ship if you see it from one of the many ferries transporting you around the harbour. The structure is made of iron and steel and is accessible via land through a large staircase (only 100 steps, worry not!). Climb it: in front of you, there will be a rather fascinating slice of this magical Hanseatic city.
(6) I would not want to state the obvious, but be aware that point (6) actually includes 2 travel suggestions. Skandorinis, I know you will appreciate it. Another warning: if you love house music, you might want to skip to point (7) which is actually point (8) but shall we just pretend this message was never put here so we can continue?
Hamburg has literally thousands of venues that will accommodate your musical taste. However, I was very fortunate because I was chaperoned by an exceptional guide – danke, Maria – that took me to the heart of the heavy metal scene in Hamburg.
The first place I would like to suggest is the "Clochard" http://www.derclochard.de/ : when I came in, it seemed to me everyone knew each other . It felt like a private party (but that was not it!). There was a group playing table-football, while Amon Amarth resonated in the background. The walls were full of stickers of music bands, of revolutions and of clubs.
The second place is called "Lunacy" http://www.lunacy-hh.de/nonflash/index_n.htm. Now, I am not a heavy metal expert, so I cannot recall the song that was playing when we entered the place. However, I can tell you that this place felt like one of those bars where only residents go. Zero tourists, apart from me. They greeted me with a smile, they accompanied me through the evening with some songs I fortunately knew and they wished me "Gute Nacht" with a shot of benzene, probably.
(7) Dear Skandorinis, you know very well how much I like street art (link to the gallery). Well, the walls of Hamburg are full of it. One of the most interesting venues in this sense is the cultural center "Rota Flora" http://www.hamburg.com/sights/alternative/rote-flora/ . This building was once a theatre, but in 1989 it was occupied by left-wing residents and groups. It is a controversial landmark: concerts and theatrical performances are still held here, but the activists established a self-repair bicycle and motorbike workshop and an alcoholism self-help group. Have a look at this place and enjoy the skater jigs in the park dedicated to them behind the building.
(8) You will be hungry, then, at some point. The "Alte Mädchen" http://en.altes-maedchen.com/ could be the solution to your appetite. When I visited Hamburg in June 2017, I stayed at this restaurant for a while: German, English, French were spoken in the table next to mine. "How long have you been studying German?", a guy asked another. "Hello my dear, sorry for being so late," a husband told his wife. Oh, Europe – what a magnificent invention. We meet in a freshly brewed beer, we smile at each other in front of a sandwich baked in the "Altes Mädchen's" wood hoven, we get to know each other through other cultures, we kiss each other in all the languages of the world.
(9) And then, of course, you will look for a tunnel. The Alter Elbtunnel is close to the "Landungsbrucken" stop, where you can board the ferries that will take you around the harbour. It is a tunnel covered with majolicas that will allow you to pass from one side of the river through stairs or elevators. It is an impressive landmark and many travellers miss it when they visit Hamburg. Don't be like them! Go .. underground!
(10) Some of you, dear readers, are pirates. That's why I love you so much! So why not venture into what once was the favourite haven of pirates? About 15 kilometres from the city centre you should visit Blankenese. It is a neighbourhood where very wealthy families live and where there are virtually no cars. You can visit it through a series of stairs that lead you to the beach where you can watch the ships entering the harbour, or to a series of white houses with straw roofs that will make you feel in an impressionist painting.
(11) Last but not least, the Alster. It is a lake that the residents will be proud of … and rightly so! It resembles a real sea gulf and is surrounded by gorgeous parks where dog-lovers and mums pushing their buggies will enjoy the surroundings with you. Moreover, this gigantic lake is surrounded by the docks that will tell you a lot about the residents' passion for water sports and is adorned by a series of Art Nouveau style villas. The dream now is complete.