Greece
Let me tell you about our island
Let me tell you about salt and sun
The waves from the ferry that takes us from Rafina to Marmari are layered with gold, in the middle of this sunset. The saltiness corrodes the protection bars of the ship. The salt unexpectedly lands on my lips and legs, and flies around in the air. The sun goes to sleep behind the mountains burned by the fires of the summer of 2018. Greece is burning somewhere, beyond that blue and white flag that slams in the wind.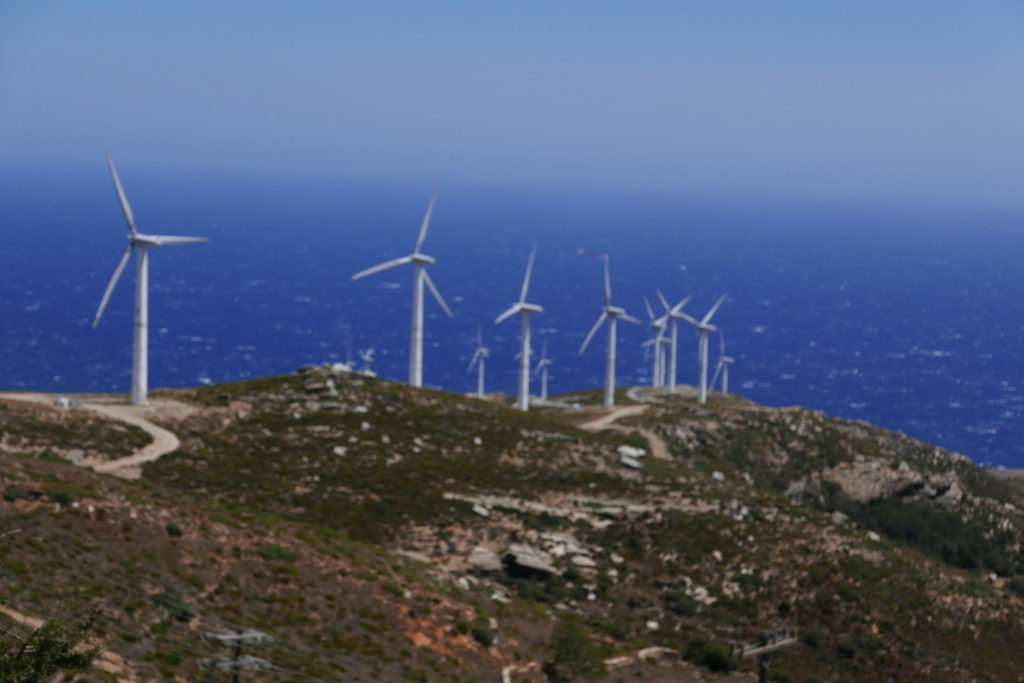 Let me tell you about wind and speed
The wind accompanies us for much of the journey. Hundreds of wind turbines, positioned anywhere on the heights of our island, keep on rolling. They look like edelweiss, seen from above. They look like stars, in the night.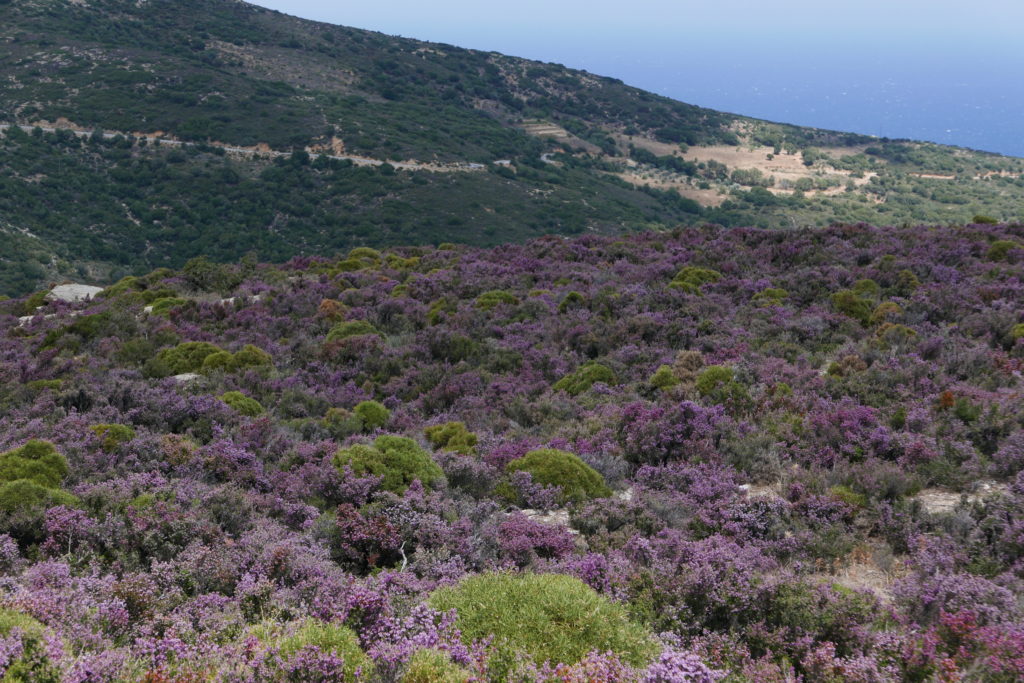 On one of the most scenic routes from Karystos to Platanistos, the wind ruffles the low shrubs of rosemary in bloom. It moves a cloud; the sun rises and changes the colour of this desert land and presents us with a purple carpet that makes us smile. Smile, just like that. Because you smile for easy things, in the end.
Speed here does not exist. The road surface is often uneven and dotted with potholes. On the sides of the streets, too many small churches remind us of those who left for the longest trip of all. You could have worn a helmet every once in a while. You could have decreased your speed, instead of accelerating. You could have taken it easy, instead of overtaking. Fate is invincible even to the Gods, as the Sybil said in the Oracle of Delphi. In these days, while Genoa on the other side of the Mediterranean falls into pieces, those little houses on the sides of the road make us think involuntarily of the Moerae, daughters of the Night, who hold invisible threads.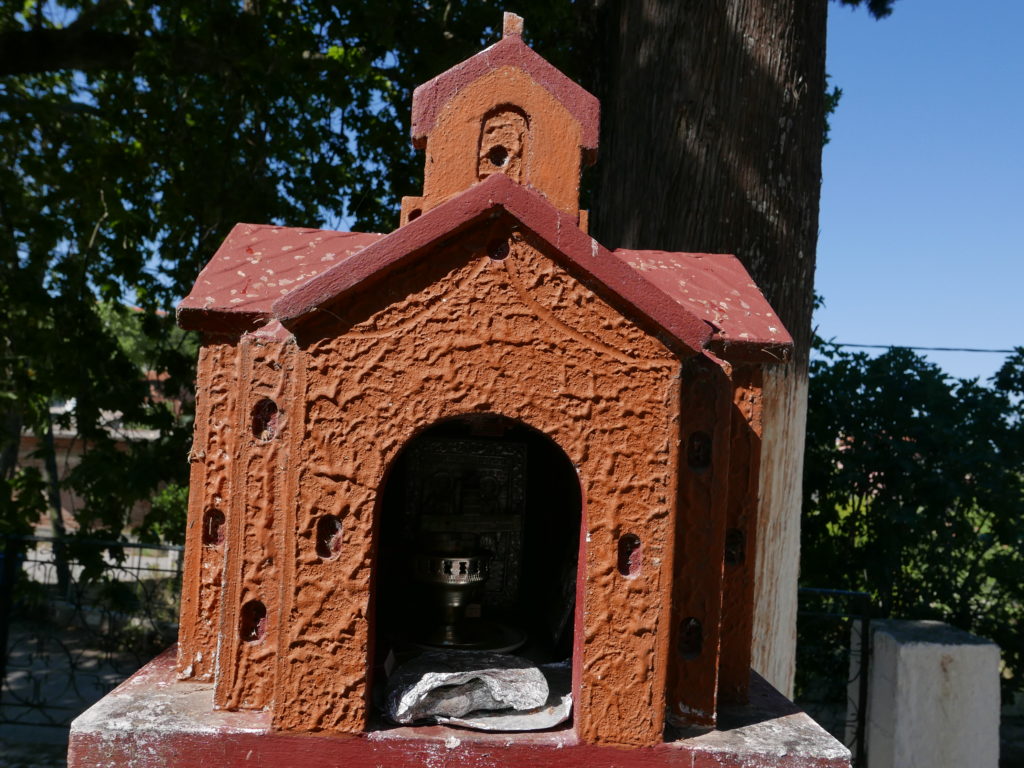 Speed here cannot exist. A single road leads you from the South to the North, from Karystos to Agia Anna: 180 kilometres, almost 4 hours. "Have you been to the North? But why? ", our landlord asked us in amazement. The North and the South do not understand each other – perhaps – not even here. It does not matter where we ended up on this trip, though: people treated us as their children. Maybe it was because we are young, maybe it is because we said yasas to anyone, maybe it was due to the fact that our island is not taken into account by non-Greek travellers: in Platanistos, where we stopped to visit the famous bridge, they saw that we were hot and they came towards us with water; in the square of the church of Agia Anna, 3 elderlies spoke Greek to us (because we might look Greek after all,) and we answered in Italian. Nobody understood anything, except "Turin" and "futbol". We had a conversation based on smiles, while inexplicably the woman in the group, all dressed in black, rummaged in a sack full of unpaired shoes, and then left us to offer them around in the village.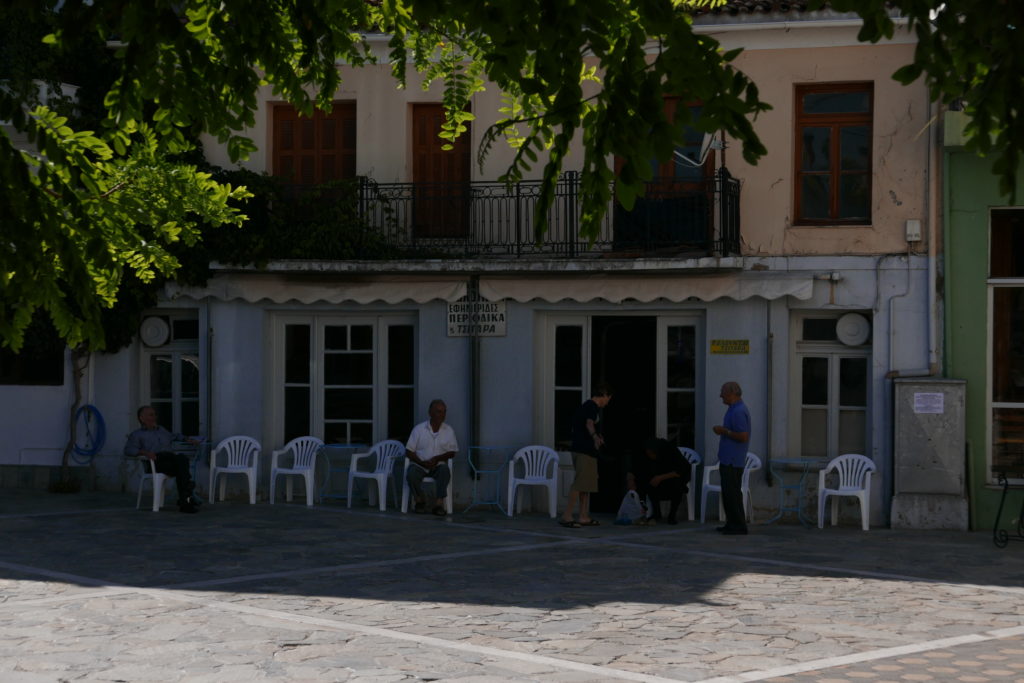 Let me tell you about sprained ankles and the Franco-Greek-Italian alliance
On our island, we kept on saying that all we needed was a pair of sandals. Free feet felt blessed in the very hot air. We walked along precipitous roads to the sea, like the one that lead us to Cape Kafireas. "It looks like Ireland", I said aloud. The Greek deities must have heard me and then they laughed. After getting off our rental car, I twisted my ankle. For a moment, we all got serious. Then, as a reaction to the pain, I started laughing with my wonderful road companions. We laughed and so did the gods. "Do you remember that time in Santorini, when they wished us "Good Fortune" and I nearly broke my leg?" (link: https://www.skandorinasdiary.com/en/greece-santorini/). Greece is a story of sprained ankles, always.
Our island is also a story of sand.
Sand, like bullets, was shot in our legs and back by the strong wind, but we pretended not to care about it because we were looking at Paxamida Island and we felt out of breath because of its beauty, because of that church, on that piece of land, in the middle of pool-like blue water.
This is a story of sand and of how we got bogged down on one of Karystos' beaches. Two Greeks saved us: he was a mechanical engineer, she was a criminologist. Such a couple can happen only when you are travelling. And then a French man showed up too. Jean Claude. With 30 stones, four wooden planks recovered somewhere on the beach, ten blasphemies in Ligurian, Piedmontese and Venetian dialect, we managed to get out of the impasse. "We would like to pay you the trouble", we told the Greek Kay Scarpetta. She laughed and said, "You must be joking. People must always help each other ".
Let me tell you about "The Assembled" and Bruno Lauzi
Our rental car looked like a can of tuna, but it turned out to be indestructible and heroic.
The stereo system dated back to 1980, so we took a loudspeaker case with us – do you know what I am talking about? They cost nothing at the market, but when you turn them on, it's like the Maracana stadium is there, in your Micra Nissan. The only problem is that their batteries are not great, and we had to plug them into the car system every couple of hours. We did not care: The Who, the Beatles in "Revolver", Luigi Tenco, Don McLean, Tropicana, Bruno Lauzi, kept us the best of company.
And the GPS system … nowhere to be found! We used our mobiles. The GPS used a lot of battery, though. So – we had to plug them in too. Can you imagine the dashboard of our car: wires everywhere! On the back seat, in addition to one of us in turn, there was also a huge life preserver, other wires, sand, water bottles full of water recovered at the various fountains encountered on the roads slippers, some costumes hanging outside the windows to dry, beach towels, sunscreens, bolts, cable covers jumped out after one of the countless potholes.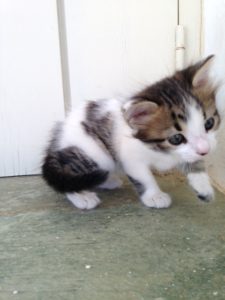 At that point, we renamed ourselves "The Assembled". Or the Gypsies. We liked both nicknames. I often had the impression that, passing through the various villages, even the cats stopped looking at the octopuses and squids hanging in the air, and turned to look at our mobile fiesta, for a moment. We grew fond of three of those cats: unlike the ones previously encountered in our first trip in Greece, these were small, and two could see properly, and they welcomed us with high-pitched meows when we came home each night. We even named them: Bruno Lauzi, Ornella Vanoni and Vietnam. Life must have been tough on Vietnam: he did not have an eye. For all three, however, we put away a piece of food at every meal. Every day, a piece of heart for those bags of fleas.
Let me tell you about Mr. Scrawl and the vlita
He welcomed us as if we had known each other forever. He listed 130 names of fish and shellfish and we only understood one: sardinas. As for everything else on the menu, we trusted him. The food in Greece is pure joy: it's the freshness of the ingredients, the aromas of the vegetables, boiled vlita and then seasoned with lemon, the grilled calamari, the iced espressos, the Malamatina wine that accompanied many starry nights on our terrace.
In Mr. Scrawl we trusted, for all this. But above all because, having discovered that we were from Turin, on the last day of our permanence on the island and after our last lunch at his restaurant, while we were driving away, he shouted at us: "Always Toro Football Club".