Bolivia
Uyuni – there's no end and there is no good-bye
We are here
"Here we are," whispers Noemi. "Welcome to Uyuni, my fellow travellers."
I have been waiting for years to get here, in the world's largest salt desert. 10,000 miles are now creaking under the wheels of our jeep.
Crack, crack, crack. This is the first noise of Uyuni in my ears.
We are exploring a place that 40,000 years was a lake.
We are here and the ojos de salar are looking at us. They are holes in the salty surface from which water comes out. They are almost invisible and local legends say they swallowed caravans.
We are here now, but our image will disintegrate soon.
My soul starts to break
At Uyuni, the soul starts to break. My eyes fill with tears, with joy and emotion.
My fellow travellers and I fall silent.
I am sure that travelling has this effect on us: travelling in parts of the world like this leads us to question our place on this poor planet, which is rapidly disintegrating because of us.
I cannot remember how long we spent here. Everything expands: human beings disappear, the mind embraces the endless possibilities of hours.
My heart rate slows down, without any apparent motivation.
I have now two of each of them
Then, I understand: our images are splitting.
It rained the night before our arrival. Only a few inches of water remain now on the crust. The surface is interrupted, from time to time, by salt pile-ups that look like small abandoned huts.
We are walking on the top of Incauasi's island. It stands in the middle of Uyuni and its shape resembles that of a fish. I realise that there is nothing for hundreds of kilometres: a 360-degree-Nothingness, formed by 11 layers whose thickness that varies between 2 and 10 metres.
How do you describe Nothingness?
How do you describe this place, where heaven and earth, thanks to the mirror created by the rain, blend? Travellers begin to travel towards an infinite horizon, by magic. I look at these wonderful companions with whom I came here. I look at them and I smile from under my orange sunglasses. This infinite mirror doubles them: I have now two of each of them.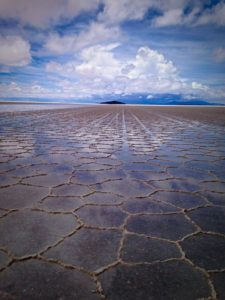 It looks like they are about to take off and fly into the clouds.
Uyuni changes everything. Whoever you are at home, in the office or in your city shops, no longer has any sense here. Your reference points are no longer useful because the perspective fades away and shifts when you travel.
Another me was born in this colossal flat land, and I understood that if we advance confidently in the direction of our dreams, and endeavour to live the life which we have imagined, we will meet with a success unexpected in common hours. We will put some things behind, will pass an invisible boundary; new, universal, and more liberal laws will begin to establish themselves around and within us.