Detachment, but also over-population: in airports, we are all too close and simultaneously too far away from each other. We hide behind a pair of noise-cancelling earplugs. We are bound to collide, but we don't, in the end. We feel strangely safe in a duty-free shop that looks the same all around the globe: Madrid, Shanghai, Johannesburg, Moscow. Dolce & Gabbana, Dior, cigarettes, vodka, make-up, face creams, fridge magnets, "would you like to try this, madam". Don't madam me. It's overwhelming, nearly: these objects, in real life, that life out of these departure gates, do not know each other, they have never met. Who applies Gucci perfume, while gobbling down a shot of Grey Goose, while they admire a fridge magnet? No, I don't want to try this new moisturiser, but thanks for talking to me, thanks for smiling at me.
The sense of misplacement in airports is also evident when it comes to food. We are given a limitless amount of choices: in Turin, it is possible to enjoy sushi while drinking a Kölsch; in Copenhagen, you can have a pizza sprinkled with Thai arugula, while enjoying a glass of excellent Chianti. I am too old for globalisation. Or I am too young to bury my hatchet against it. Sometimes I dream of a world where everything is still original. Everything is still true. Pure, in a way. I would feel comfortable to know that I can only get ćevapčići in Sarajevo. That's not the case, though. In airports, nothing is authentic. I saw ćevapčići in Oslo not too long ago.
Everything is retrievable and replicable everywhere in airports. There is nothing you can truly discover in front of these billions of millions of departure gates.
The sense of indifference in airports is atrocious. We all look like bubbles: I wonder how we manage not to strangle ourselves, not to suffocate, in here. It would take so little to start breathing again and to enjoy others. In fact, I could put down this damn laptop and talk to those who are sitting next to me, asking where they are going, but especially why and for whom they are going there. It would be enough. Instead, nothing. I continue with my controlled impassivity. The walls of my bubble do not break so easily. They look like titanium.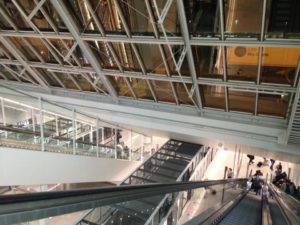 I am not disinterested. I do not know what it is. I know I have to continue with that unmissable end-of-year report, with the Excel spreadsheet that nobody will probably look at or that maybe everyone will use to explain to me why they will not invest in my next project. I'm sorry, but Facebook is calling me. And yet, it would not take too much: I could simply turn around and smile. It would be sufficient.
So …
"Are you going somewhere nice?"