Italy
'Cause we're lovers, and that is a fact
'Cause we're lovers, and that is a fact
Yes we're lovers, and that is that
I've been keeping a close eye on my love. I have travelled around throughout the years but I have returned to the starting point. They say life goes in circles, doesn't it. Moreover, I have not written a letter like this for way too many years and our relationship is undeniable. I cannot hide anymore. I do not want to hide anymore. I love its wrinkles, dug by polluted air. Its hair, illuminated by its sunsets on the river. I love to come home, because I know it is going to be there waiting for me.
That's that – my love declaration.
Torino – I love you because when I walk in Piazza Carlo Alberto, I look up and thousands of books are visible through the windows of the National Library, and I get reminded that culture is an asset that nobody will ever steal from me.
I love you because in Via Roma, where cars are not allowed and you can enjoy a vision of Piazza Castello, the tarmac is as smooth as the pavement of a ball room. It feels like my bicycle wheels fly on it.
Then, I love looking up at the end of Piazza Vittorio where via Po starts. I love that statue, positioned on a random terrace: it has the body of a boy, and from its hoodie tree branches spring out and I like to think that his lungs are filled with green leaves and oxygen. Unfortunately, very few people seem to notice it.
I love meeting you in Largo Montebello, in Vanchiglia. When we almost touch there, under the trees that cover the centre of this small square, it's dark even if it's 3 o'clock in the afternoon. By magic, I am transported back in time, to a cabin built in my beloved parents', elsewhere in space.
Then – Parco Dora. Every time I get off the Tram Number 3 at the "Piero della Francesca" centre, I get a glimpse of those orange bastions. Always, I think I am in "Blade Runner" and I think of Roy Batty and his tears that will get lost in the rain. If my phone is charged enough, I almost unconsciously start listening to Vangelis, and then I am in "Blade Runner". The best option would obviously be to have "Beaubourg" on my phone, but I only have a vinyl version of that masterpiece and I am not sure it would be socially acceptable to walk around with a record player.
I love your concrete hugging the green areas at Parco Valentino, but also along Corso Casale, where I stop to look at those graffiti carelessly shut in Parco Michelotti. It used to be a zoological park and now it's just a messy conglomerate of unwanted plants. A huge green monkey graffiti is supervising the abandoned area. Still, I love it.
I am in love with you because we are accompanied in our romantic walks by Millo's street art. Most of it can be found in Barriera di Milano. They tell about the relationship between Man and the Urban Pattern. My favourite masterpiece is the one in Via Cruto: two kids play Chinese whispers in the midst of high skyscrapers. And the one in Corso Vigevano, too. I get there easily by bike and I look at that boy, floating upside down.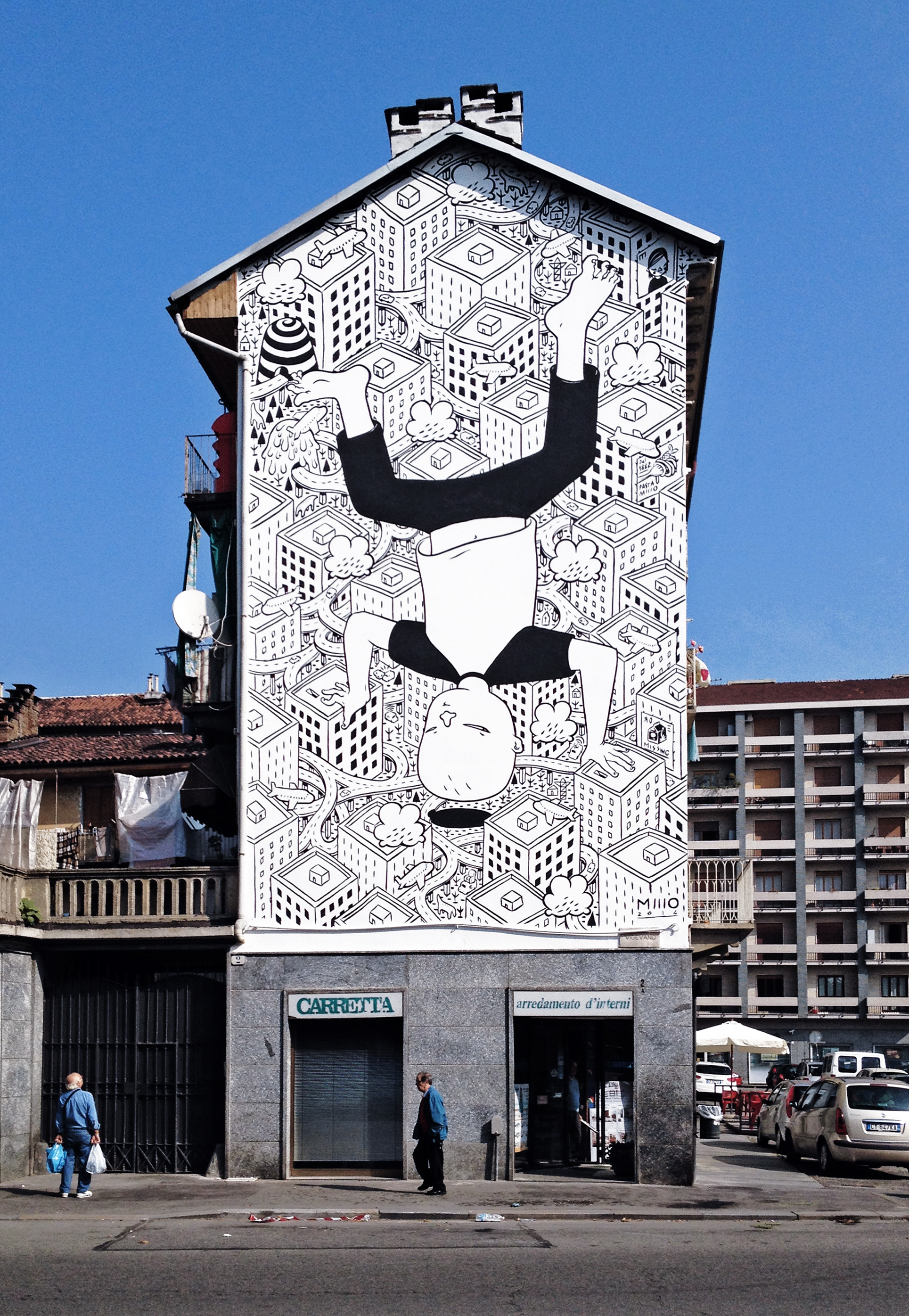 I feel an inexplicable affection towards one of the big stairs one can find at the Museo del Risorgimento. Only that one big marble stair. I always leave Piazza Carlo Alberto at my back, and then that masterpiece I am fond of is there, on the right. I feel sorry for it, nobody gives a damn about it. Everybody checks out the fascinating stairs at Palazzo Madama. Rightly so, one could argue, but I can't but wonder how one cannot notice the one that leads to the first Parliament this country had when we were not ashamed of our Parliament. It changes colours depending on the time of the day you happen to pass by. Pearl, grey, pink.
I love Via Montebello. Yes, you are right – it's where you can see the Mole Antonelliana. Don't miss a chance to visit this fascinating museum, go inside, please. But that's not why I love this via. I love it because in summertime, when all we would love to do is to walk around naked because of the boiling temperatures, via Montebello is the only via in the city centre where air strangely circulates. You can sit down on one of the granite benches, and you can breathe. And if you are super lucky, you can stop perspiring for almost 30 seconds.
Then – miracles happen around here. I often look up when I walk in Via Pietro Micca. The ceiling of its porches change as you keep going towards Porta Susa Station: at first they look like damask cloth, and then they turn pearl and blue. When you get to Via Mercanti, it changes again to alabaster shades and then in via Francesco D'Assisi it turns to an even whiter shade. Just don't stop looking up, please.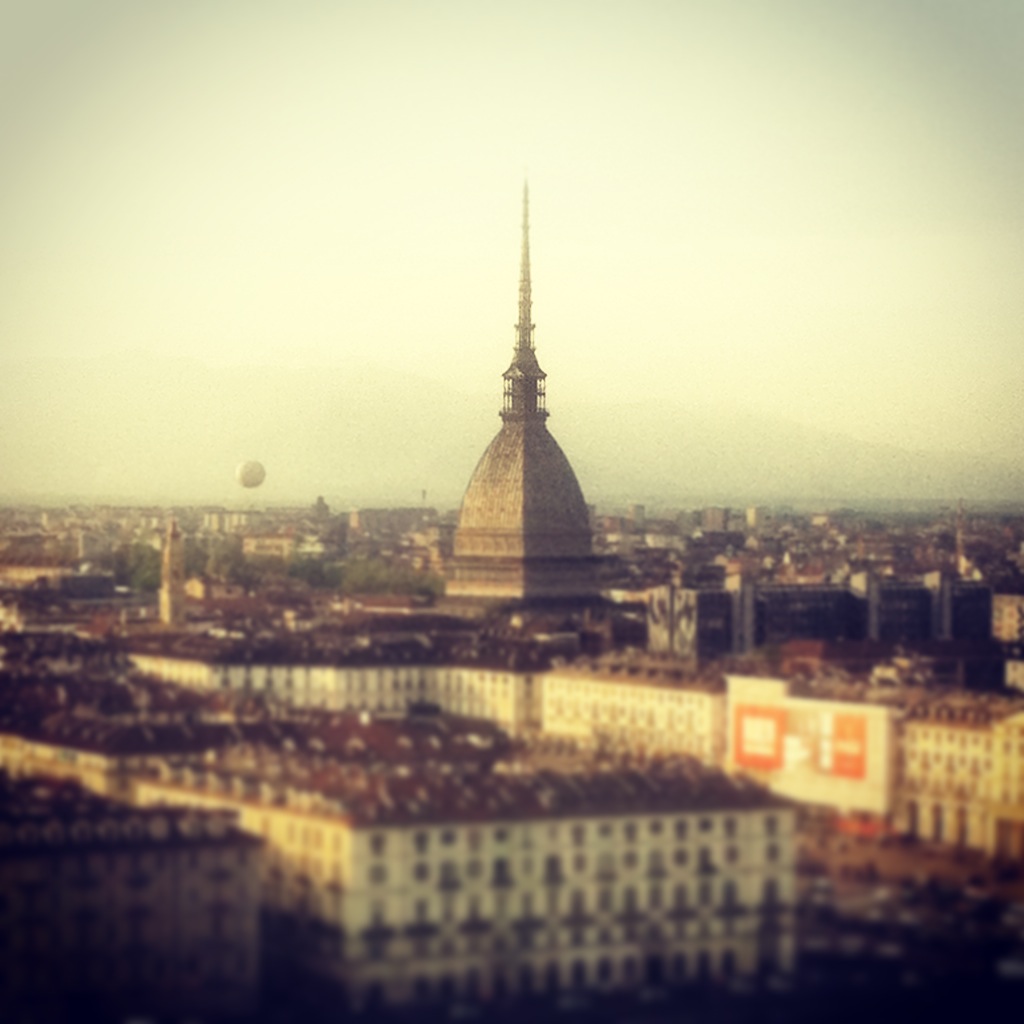 For all these reasons and many more to come, I am in love with my city. Its underestimated beauty walks with me. For these reasons and many more to come, I think that if "you can only get one great love", Torino may just be mine. And I can't have anybody talking bad about my boyfriend.