Italy
San Nicolò Chapel: 6 characters in search of an author (+2)
There are books made of paper. We curiously browse their pages. With reticence, we lend them to someone. With love, we smell them. Firmly, we say, "I can not buy another one." But still, we continue to purchase new ones.
Then, there are stories that develop behind locked forgotten walls. Most of them are not appreciated, sadly.
In Bardineto, in the province of Savona, there is one of these books: the church of San Nicolò lies just outside the village. It is easy to get there: it is a short walk from the "Scravaiòn" provincial road.
You stroll up the path that leads to the Rio San Giovanni Bridge and the chapel is there. It plays hide and seek with you.
The pictorial cycle in there has not yet received a certain date by scholars, but it does not matter to me. When I arrive there, on a regular summer day, I know a real text to read lies in front of me: there is a real group of characters there: they look for an author.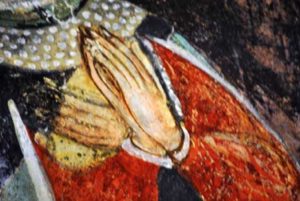 The first to catch my attention is a princess who seems to have three hands. She was frozen in time in a very busy scene. Her fingers are smooth and elongated, she has short blond hair and it seems a bit crushed under the weight of a crown that shines, full of pearls.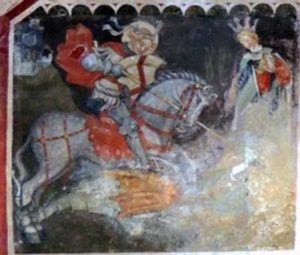 She looks down: a dragon lies at her feet. It has an orange wing, and the rest of its body is layered in gray scales on which hangs the sword of St. George. The patron saint of England, of soldiers, of knights and fencers is riding a white horse, whose bridle looks more like red lace than leather. His hair and cloak flutter in the air and in his left hand he holds a crossed shield, a symbol of his Christian faith.
He is the hero of the moment. He has freed from sin the village that is seen in the distance. Nevertheless, I can't but wonder if this saint realises that the tail of the dragon is still clinging to the hind legs of his horse.
My gaze moves then right up. There is a hortus conclusus, the enclosed garden which is a symbol of virginity. There are flowers and fruits of faith: it looks like a garden that you can find along the Ligurian Riviera. This is not what catches my attention up there, though: there is a uroboro vase.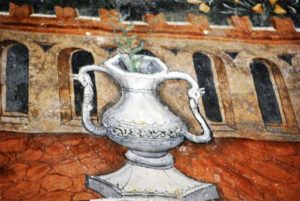 It sounds a bit like the name of a medicine, right? The term indicates a snake eating its own tail ("ουροβоρος" in Greek) and swallowing it. The circle image personifies the eternal return. It indicates the existence of a new beginning that takes place quickly. The symbol has the shape of a snake that continously changes its skin and thus rejuvenates, in a sense. Uroboro represents the circle, the expressive metaphor of a cyclic reproduction, such as death and rebirth, the end of the world and its new creation.
To the right of the hortus, then there is the Archangel Micheal. Michael is the angel of death, carrying the souls of all the deceased to heaven and he holds a scale in his left hand. There are two souls that catch my attention: one is desperate and raises his arms as the devil's harpoon on the ground tries in vain to pull him toward sin; the other is obviously the good soul and stretches his arms to the Archangel.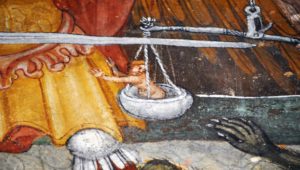 He seems to say, "Save me, hold me with you, it does not look good out here".
I move then to the presbytery. Below the lower limit of the frescoed figures, a man's face resembling an oriental icon appears on a velvet. Amber skin and brown hair easily identify his origin: a Palestinian, someone from the Middle East. Here is the crucified Saviour.
I smile, as the blonde locks and the blue eyes we have been fed for centuries are nowhere to be found in this representation.
I greet then Saint Nicolò and I say hello to the Christ Pantocrator who looks over from the arch, and I meet then my second-last character. He is a chained poor devil. He has green skin and is headless. Actually his head seems to have been moved under his waist where you can see another infamous set of hooks. Precisely, well … did you understand? Around the groin, let's say that.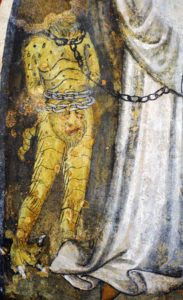 His feet are two dragon paws, from which huge nails emerge.
I am about telling you something that will probably make the believers' skin crawl: I always liked devils and dragons in holy places like this chapel. (if you've lost it, here's an article I wrote about this topic some time ago). I feel for them in a way: they are the symbols of human fragility, of error, of easy stumbling. I can relate very much.
And then the last of the characters in search of an author: it is the person that let me into this chapel, my modern Virgil.. I ask him: "Why do you care so much about this church?". He ends the fairy tale with a fairy tale: "I was a child, but I still remember everything as if it had happened yesterday. Here, in the late Fifties, the last heiress of the Del Carretto dynasty married here. She looked like a princess, similar to the one you see on the wall near Saint George, near the dragon. Her husband was a prince: he had a name that reminded me of the way you say "January" in French: Javier. All around the wedding procession there were orchids. A fairy tale, you know. That's how I fell in love with this place. "