India
There is a city in Madhya Pradesh: Jabalpur
There is a city in Madhya Pradesh.
Its name is Jabalpur: from the Arabic jabal, stone and pur, city.
The river Narmada flows along its ghats and caresses its temples. It is here that the ashes of Ghandi were immersed, after his cremation.
Jabalpur is full of military barracks and training schools and factories that make weapons.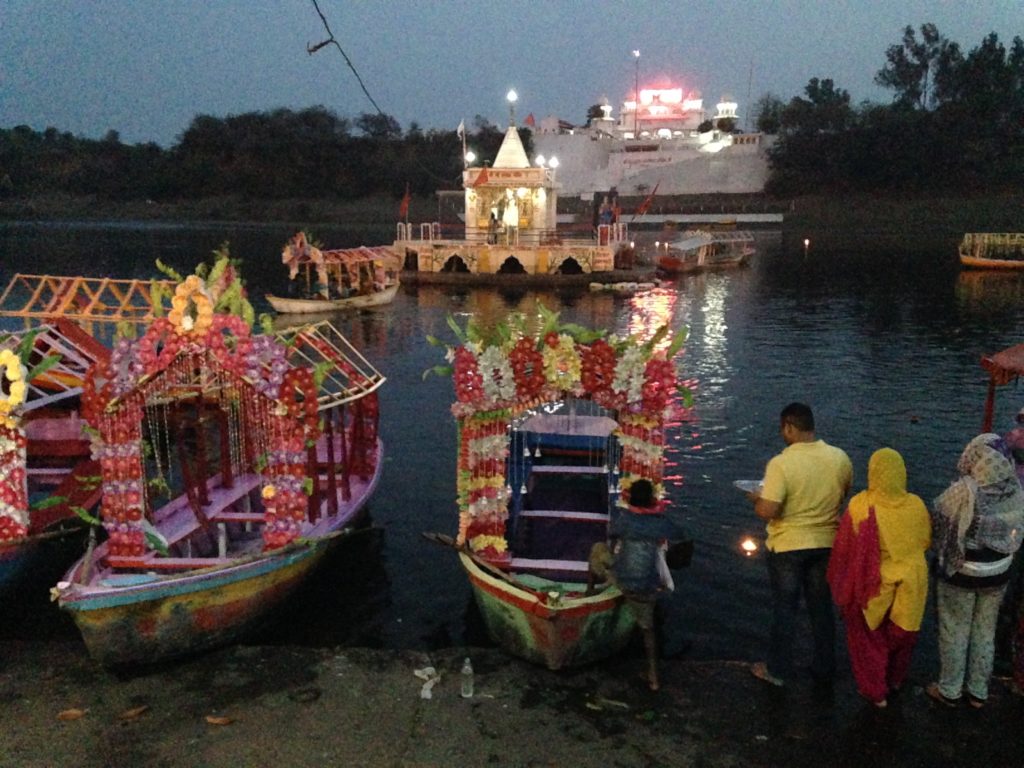 "I would like to go here," I say to the tuk-tuk driver. I show him a note on which, in English and Hindi, one can read Gwarighat. We agree on the price of the ride and I sit in the front, besides him. The odometer does not move. Distances are often evanescent, irrelevant if you want, in India. It is a 10-kilometre-ride from the hotel near the train station where I spend the night. The spiritual journey will cross a thousand eras.
The air is soft and tender at the beginning of April. It is 6:30 pm and the light of day is languidly fading away. On the opposite bank of the river stands the pearly Sikh temple Gwarighat Gurdwara Saheb.
"Do you know what Sikhs do?", he asks me in his perfect English.
"No. I do not know anything anymore since I arrived in India", I reply.
"Those who follow Sikhism believe in the power of Giving: giving food to the hungry is like feeding the Divinity. It must come from the heart, though. Otherwise it has no value. Helping the needy is the best way to use wealth. Their temples always have a langar: a common area where everyone can get fed. Kings and beggars, all at the same table. They say that at the Golden Temple in Amritsar, in Punjab, 3000 free meals are served every half hour. Sikhs are regularly present in the event of natural disasters, such as floods and earthquakes. And in your part of the world, they also brought their help to the war zones in Bosnia and Kosovo".
"Stop it. Sikhs are those who killed Indira Ghandi in 1984, aren't they?".
"Yup. They were her bodyguards. You are right. Remember, however, that History is made of acts of goodness, too. We choose to focus our attention mainly on the Shadows".
Two, three, ten steps lead me near the banks of the Narmada River. There are three of them: they smile at me. "Namaskar", hands joined to the chest. I greet the divinity that is in you. They laugh as only children can do. They do not speak English, and I do not speak any language that can help us communicate with words. And then, we express ourselves with sounds and funny faces. I pretend to frighten them, turning every two, three, ten steps: and they laugh and laugh. They start running and then they overtake me, and we repeat the same scene. And I pretend to be afraid. "One cannot be afraid of your eyes," I tell them, even though I know they do not understand me. They point me towards the Narmada. "Go take a bath too, come on!". No, it would not help: I do not believe anything. Or maybe I believe in everything.
I have not come here to immerse myself in the waters of the sacred river.
I am here for the aarti, that ritual during which the light emitted by five camphor flames is moved with a clockwise rotation in front of the deity or one of its aspects, through the murti.
"But what are murti?".
"They are the images, the statues, the physical representations used during adoration as points of meditative focus".
"But why five flames, and therefore here in this ghat, five pedestals?".
"The five lights symbolise the five elements of the ether, water, fire, air and earth. They represent the Whole".
"And why using camphor?"
"Because camphor burns without leaving residues. It is the representation of the ego that, once it reaches Nirvana, disappears without leaving a trace".
"How do you know these things?".
"I cannot tell you. Since I arrived in India, I seem to know more".
Everywhere they sell flower necklaces, orange and yellow. Some stalls offer small lamps in light terracotta in the shape of a leaf with a little butter candle and a wick to light. They then get released on the waters of the Narmada. Those lights that leave the shore create an ethereal and impalpable atmosphere.
"Good evening, miss," he tells me in his broken English. "Where are you from?".
How many times, this question in Madhya Pradesh, and in Chhattisgarh and in Odisha.
"I am Italian".
"It would be nice if you wanted to sit here with us, along with the Sages and other believers".
"But I am not here alone".
"It is even better. Ask your friends to join in too".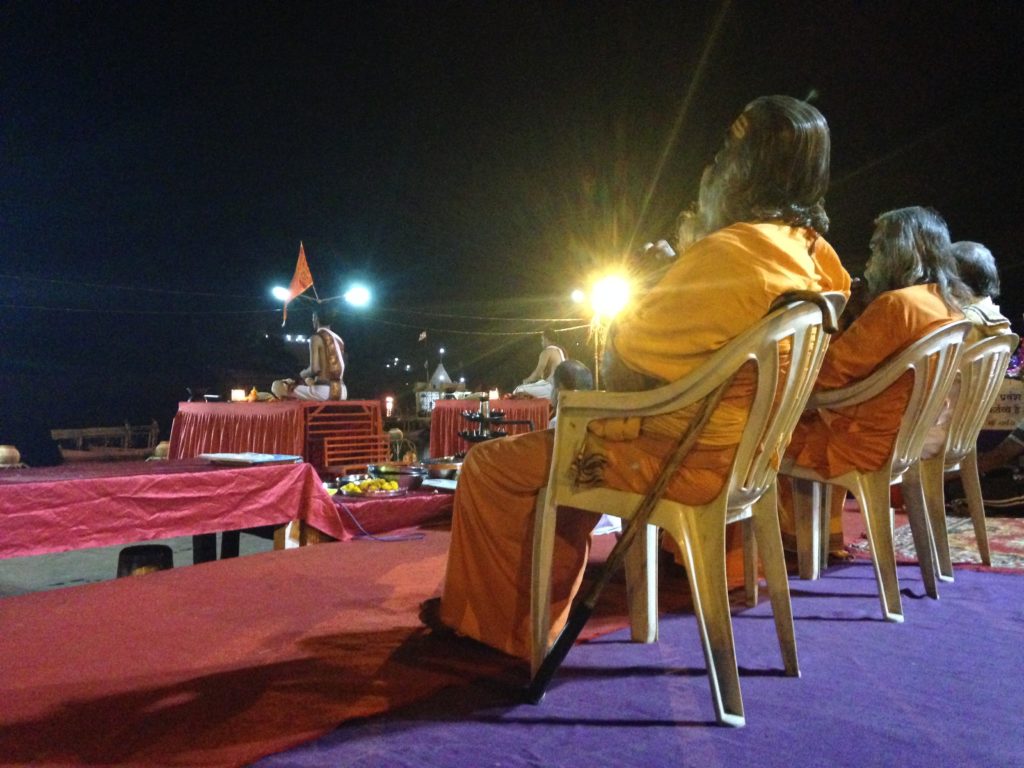 They let us in and we sit on the floor in the last row. We do not want to disturb the function. A few metres from me, three holy men dressed in orange, sporting grey hair. One of them wears a pair of fuchsia socks, which makes me laugh and I do not know why. Close to us, two girls show us the movements to be done during the ceremony. The holy men ask us to get closer and encourage us to rotate the camphor lamps. I haven't the faintest idea of what is happening and why I am doing it. On the five pedestals, the priests rub oil on what looks like an egg from here. And then they blow hard inside a shell. And then they move a feather synchronously. For a few seconds, I have the typical feeling of dreams: I do not remember exactly the beginning of this evening. How did I get here? The tuk-tuk that brought me here has disappeared from my mind.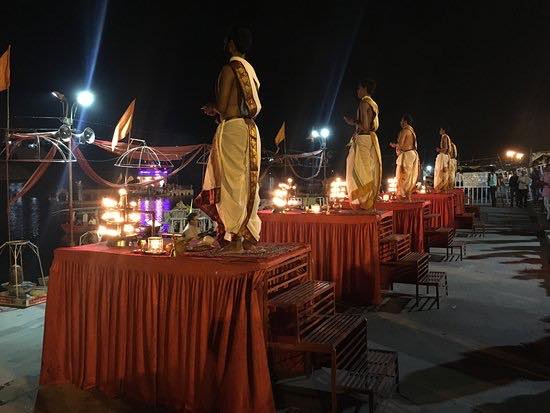 The Gwarighat esplanade is filled with worshipers.
"Miss, can I ask you where you come from?", he asks me in English with almost no accent.
"Of course you can. I am Italian".
"Oh, you know … I am an engineer. I work and live in Hong Kong, but I grew up in Jabalpur. And I often collaborate with the University of Pisa! I came back this week to participate in the puja here at Gwarighat to honor the memory of my mother, who passed away a few years ago. This function, tonight, is dedicated to her. And to water ".
"To water?", I ask.
"Yes, because every time the puja happens here, on this esplanade, the partecipants make a vow in the end. They promise not to waste water, not to dirty it, not to reduce its global levels even more than they are already doing", he explains.
I smile. We choose to focus our attention mainly on the Shadows, while around us, the world is made of infinite good intentions.
The ceremony ends: Sanskrit hymns have evaporated. Our hands joined together and we smiled to each other. The world is so beautiful, tonight on this walkboard. The world is an immense breath, tonight, among all these joyful people who have welcomed us as old friends.