Los Angeles is scary and magnificent at the same time.
The distances are apocalyptic: from one neighbourhood to the other, there are tens of kilometres. It can take you three hours to move a couple of blocks, depending on the time of the day. Three hours.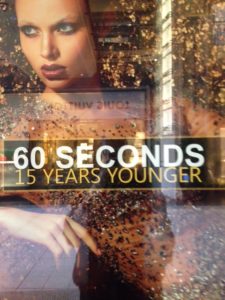 Time in Los Angeles is liquefied. It slips between your fingers, like the ocean in Santa Monica. You live forever, here. You struggle to stay young forever. One evening, in a golden showcase in the Dolby Theater gallery, I read an advertisement saying "60 seconds, 15 years younger".
You would like to walk, but you cannot because your legs collapse.
Then nobody walks here, but everyone has a car and they worship it like a parent. Asking directions is often counterproductive. No one knows how to get anywhere on foot. "Excuse me, I know the Walt Disney auditorium is close by. Can you tell me if I should walk in this or that direction?". "I'm sorry, I can only explain you how to get there by car." Ford and Toyota are just two of Los Angeles deities.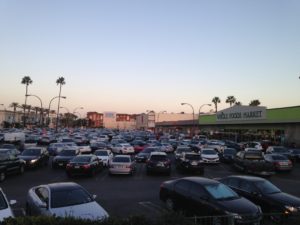 The streets are noiseless: the cars are silent. You find them close to you and you cannot explain how they approached you without you even noticing them.
Almost nobody talks as they walk along its boulevard. They all hold a phone in their hands and you can hear full-blast music coming out of their earplugs. I wonder what they are listening to to eliminate the real world. Who knows why they want to cancel that world.
Nobody touches in Los Angeles. In any other city, people brush past the other. Not here. And if you do not crash into each other, you do not feel anything. You do not perceive anything. They are all emblasoned behind a continuum of iron and glass.
Many adults wear Hogwarts sweatshirts. Maybe it helps them to imagine being somewhere else. Maybe they believe in magic in Los Angeles.
I saw an almost endless queue, an afternoon, in Rodeo Drive. Those people were standing there, holding a strictly sugar-free Starbucks cappuccino in their hands, patiently waiting. They were not there to buy a Ralph Lauren shirt.
That line of people was there to visit. A. Shop.
The air in Los Angeles smells of marjuana. And of avocado.
One morning, while I was preparing breakfast in the hostel where I slept in Hollywood, one of the owners looked outside from the kitchen window and said, "It's cold today." There were 19 degrees outside. "I live near the Alps. It will start snowing in a few weeks," I replied. "It must be amazing to feel something like that on your skin," she told me, continuing to observe the road beyond the glass.
In Los Angeles, people often drag a suitcase or carry a bag. It is a transient place. Everybody comes from somewhere else. It's a non-place where everyone just seems to pass. Some people come looking for a dream, others escape from too many nightmares. All that luggage appears to indicate that everyone is ready to make a break for this promised land – metaphorically, literally – should the need arise.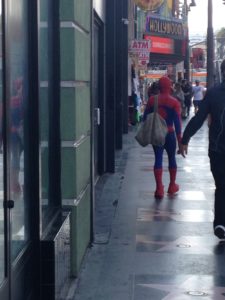 Along the Walk of Fame, I found myself walking near Spiderman, Superman, Marylin. "I'm a copycat," Superman told me. I'm just the copy of somebody else, I'm an imitation. I don't really exist.
I was thinking of the name of the city one morning as I was sitting by the Tar Pits (link). Sitting in that part of the city is already in itself impossible: the Tar Pits are ponds where water is not the liquid bubbling in front of you. It is asphalt that, for hundreds of thousands of years, goes through the earth and comes to gush on the surface. Anyway, I was saying – I thought of the name of this centre-less metropolis and I thought it sounded a bit like Lost Angels.
Los Angeles sky is loaded with helicopters and palm trees, and neon lights along the Sunset Bouvelard.
From the Griffith observatory I saw one of the most colourful sunsets of my whole life. We laughed, me and the French guy I met while I was walking up there. "You know it's the smog that creates these schizophrenic colours, don't you" I told him. "Yeah, but every now and then it's better to forget that often behind every wonderful picture there is a terrible story," he replied.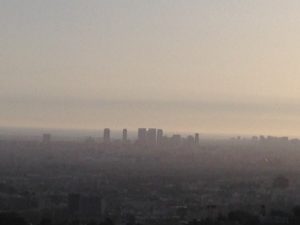 Los Angeles is also magnificent, but we'll talk about it next time.